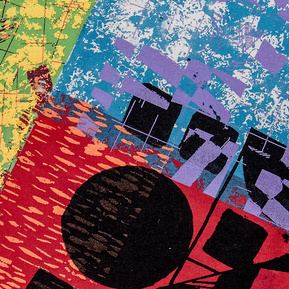 EMESE BARNA
Anthropocene Epoch is the unofficial unit of the current geological time, since humans have been in existence. This unusual starting point has inspired two very different design collections, one which celebrates the beauty of nature, whereas the other brings to attention the effects humans have had on the environment.

This theme has provided me with a range of interesting and eco friendly options, and has challenged me to see things from different perspectives. In my first collection I have responded to my cultural background, focusing on the endangered Hungarian birds and flowers.
The aim is to highlight the beauty of nature and call the attention on the extinction on these animals and plants. I have used acrylic paint and transfer these illustrations on products using HP printer, water- based pigments, laser engraving and materials that are eco-friendly such as, bamboo fabric, seed paper (plant-able), cotton duck and recycled polyester.
The outcomes have multiple purposes including plant-able gift-cards, giftbags and tote bags, with fabric wrapping paper also used as scarves.
My second collection is a transport collection where I bring geometrical shapes from the urban spaces together with textures from nature. Showing how the two can live next to each other. Creating a calm environment in claustrophobic spaces. These have been expressed by using mixed media such as acrylic paint, pens and other media.
Designs have been transferred onto products using water-based printing techniques, heat transfer and laser engraving. Responding to this environmental theme I used the most sustainable and eco friendly processes and materials to create my outcomes.
I have also explored a wide range of materials and variation of fabrics. The final collection is aimed at designs for transport seating, flooring and window graphics.