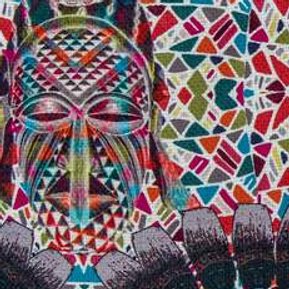 DENISE GOUVIEA
'Lourenco Marques' is a collection of designs for fashion fabrics and accessories using the 'Gamescape' S/S 21 and 'Euphoric' S/S 22 from the Worth Global Style Network as an opportunity to explore colour and pattern through her own heritage through exploration of Mozambique. Denise aims to promote and validate the importance of African culture as influence on contemporary design practices.
Photographs from travels to Mozambique, alongside visits to the Manchester Museum, and online access to Liverpool World Museum, allowed Denise to explore decorative patterning found on hand crafted tools, textiles and everyday objects.
Initially Denise used a meticulous approach to observational studies, using a range of artist pencils to study the texture, tone and pattern through illustration techniques.
Denise also looked to design companies including Hermes Paris as influence on design layout and pattern constructions before taking her illustrations to the computer to create collections of co-ordinating prints using Adobe Creative Suite and AVA CAD CAM. Larger panel prints were both digitally printed using reactive dyestuffs onto silk and hand screen printed using pigments onto cottons. These panels are also multifunctional as interior wall panels.