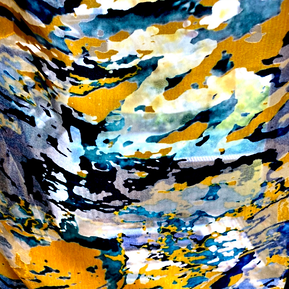 SAIMA SALEEM
The collection on display showcases a range of gallery-led textiles, in response to a flora and fauna theme which considers both endangered species and endangered crafts.
Visual Research came from online entomological archives featuring endangered species including beetles – tansy beetle who have recently lost their habitat. The ladybird, currently not endangered, if not considered will become part of the endangered list.
Using these as visual references Saima has used hand drawn methods to explore the sophisticated quality of clean lines. These linear marks were transferred onto screens to create a range of hand printed samples using methods of layering including devore, digital
printing onto fabric, surface manipulation and embroidery. Inspiration for the collection came from contemporaries such as natural dyer Clare Wellesley-Smith and embroiderer Pascell Montiel.
Natural dyestuffs include the cabbage, turmeric, henna, mud and water chestnuts to create a considered colour palette, with consideration of sustainability.
The range of gallery led textiles can be viewed as wall hung pieces or as wearable art, which include fashion accessories and bespoke one-off textiles.