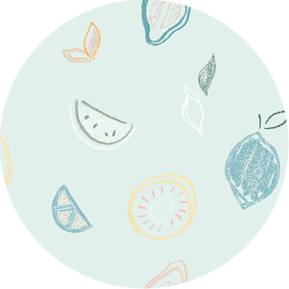 REBECCA ROBINSON
A collection of designs for childrens interiors and fashion which capture fruits, farms and florals in a fun and colourful way. The rise in promoting healthy eating for children caught Rebecca's attention and influenced her work, following on from critical theory research into how design impacts mental health and wellbeing.
Childrens fashion fabrics include engineered prints and repeats, alongside coordinating collections for furnishing fabrics and wallpapers. These explore a wide variety of imagery which have been hand illustrated using techniques such as mark making, collage and drawing with crayon to offer a range of different abstract styles. Rebecca then used digital processes including Adobe Creative Suite and AVA CAD CAM to create surface pattern designs.
By researching the market Rebecca found design companies such as Lemon Ribbon, Lion and Leopard, Paper and Cloth and was also inspired by highstreet shops such as Next, Zara, and George at Asda.
Rebecca is interested in pursuing a career within the surface design industry offering versatility within her portfolio.
beci.lou.surfacedesign